Trumponomics v2.0 Dazzles
To Trump Economic Platform, Add Incentives On Steroids...
... and the fully combined results are truly amazing, including: easily paying for every tax credit and tax change Trump has proposed so far, PLUS solving the entire national Student Debt crisis, PLUS immediately adding $50B/yr onto the U.S. Defense Budget, PLUS quickly rehabilitating every single K-12 public school in America, PLUS renewing sales of residential homes, new cars and trucks, and yet even more automatic byproduct benefits for workers, parents, families, businesses, all government tax revenues, the U.S. Dollar, and America in general, also included - not to mention the directly vast array of benefits from the two major programs overviewed by the pair of descriptions to the right.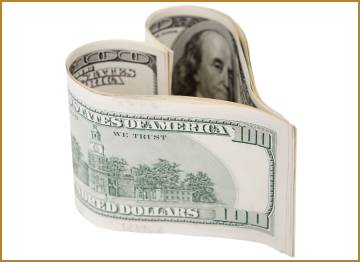 One Bag + One Service + One Form = $500 Reward
Some 200 million American adults will participate in a program to clean out bad information from all government entitlement databases to receive their individual $500 rewards, in the process donating $5 billion in extra non-perishable food donations to literally eradicate all current hunger in America (i.e., more than double the entire annual national output of all Feeding America programs combined), providing roughly 450 million man-hours of windfall volunteer community service labor for all 35,000 city and town leaders nationwide to schedule performance and completion of just about every local revitalization project ever considered (including every public K-12 school, every public park, etc.), and more. At $500 each, the program costs about $100B one-time, but instantly saves America at least $450B annually to redirect, such as massive investment into equipment and materials to support the corresponding new nationwide infrastructure jobs agenda.
Learn More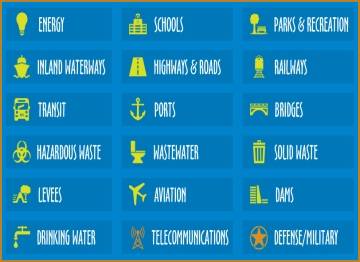 50 Million New Jobs Cures 18 Infrastructure Needs
As an aggressive eight (8) year program to address every single deficiency identified by the latest ASCE Infrastructure Report Card and all 16 fields/areas therein, increasing that overall $3.6T estimation by a whopping 33.33% up to $4.8T maximum budget over the eight-year span, and then allowing all Student Loan obligors, certain FHA mortgage obligors, all "means-tested" Welfare recipients, Social Security recipients under 65, and even the homeless, as well as ex-offenders, to take advantage of offering their respective incentive credits to companies hiring for approved infrastructure projects beginning everywhere quickly. In addition to the 16 core ASCE infrastructure types, Telecommunications is included (primarily increasing Broadband/WiFi services), and the $50B Defense Budget enhancement is counted as an 18th "infrastructure" type, a fraction of which includes also increasing the total number of Army Corps of Engineers personnel from 37,000 up to 50,000 to cover logistical/liaison support for all appropriate infrastructure projects nationwide.
Learn More